W wyjątkowych okolicznościach przyrody w nowo powstałej przestrzeni kulturalnej w wakacyjne czwartki czekają leżaki i  kino plenerowe.
Repertuar Kino plenerowe w Koszarach Kultury:
08.07.2021, godz. 22:00 – Podróź na sto stóp (2014)
15.07.2021, godz. 22:00 – Twarze plaże (2017)
22.07.2021, godz. 22:00 – Szarlatan (2020)
29.07.2021, godz. 22:00 – Powitanie słońca (2019)
Koszary Kultury to przestrzeń kulturalna na styku dwóch dzielnic: Grunwaldu i Łazarza, na terenie dawnych koszar. To strefa kultury z ofertą skierowaną do wszystkich osób, które szukają w mieście atrakcyjnej przestrzeni do spędzenia wolnego czasu, aktywności fizycznych i działań przyrodniczych.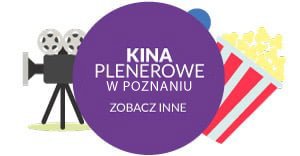 ---
Data:
8 lipca 2021 - 29 lipca 2021
Godzina 22:00
---
Wykonawca / Organizator:
Koszary Kultury
---